Slide 1
Welcome to National University of Battambang
Your Career Starts With Us.
National University of Battambang is a biggest state University in Northwest of Cambodia. NUBB's goal is to educate the leaders of tomorrow in a wide range of fields through a balance of theory and practice, and the integration of real world experiences into academic education.
Slide 1
The Largest University's Nation in northwest of Cambodia
The university has a large and beautiful campus on an area of 11 hectares. There are modern infrastructures and facilities that serve the research of students and scholars.
289302149_1046101082773619_813048735301499802_n
NUBB_DORMITORY_PERSPECTIVE_VIEW_02
Agricultural Research and Training Center
Latest News
National University of Battambang organizes a capacity-building workshop on 21st-century teaching skills
26/09/23
The Faculty of Arts, Humanities, and Education of the National University of Battambang has organized a 21st Century Teaching Skills Training Program in the 21st Teach Skills Teacher Training
Testimonials for Master of Business Administration in Digital Business Management in NUBB
07/09/23
On June 9th, 2023 National University of Battambang (NUBB) has organized the Information Day which is supported by Erasmus+ CBHE project Industry 4.0. The event was presided over by Mr. Neavea TEP, Vice
Teaching and learning activities for Master of Business Administration in Digital Business Management (DBM) promotion 1 in National University of Battambang (NUBB)
06/09/23
Graduate School of the National University of Battambang (NUBB) has developed a master's
Signing of Cooperation Agreement between University Industry Cooperation Center (UICC) at NUBB and private sector "BORAN CARE ASIA CO., LTD"
04/09/23
In the afternoon of Monday 28th August 2023, Representing Mr. Tep Neavea, Vice rector of National
Erasmus+ CBHE projects such as Inowasia, Ind4.0, and Greencap play importance role in the quality of NUBB graduate programs.
04/08/23
On August 1st-2nd, 2023, the National University of Battambang (NUBB) organized a workshop about "Academic programs of NUBB for
Student Feedbacks
PHAN Sreymey
National University of Battambang (NUBB) is one of the best higher-education institutions in northwest of Cambodia. First and foremost, NUBB is a public university which is officially recognized by the Ministry of Education, Youth and Sports of Cambodia. It offers courses and programs which are locally and internationally recognized, especially there are local and foreign lecturers and professors who are talented and skillful in transferring knowledge to students.   The university also has spacious and expansive green campus. If you wish to study in a beautiful and friendly-learning atmosphere, NUBB is definitely your best choice. It provides many academic and non-academic facilities and services to students including a library, language labs, computer laps, and laboratories. Last but not least, many wonderful opportunities, include studying and employment, are always available for NUBB students. During the academic year, students can grab a chance to join Exchange Program or peruse their degree to famous partner universities in Asia as well as Europe. For instance, I, myself, was awarded a scholarship to study in one famous University in Indonesia, which was one of a unique life time experience. More importantly, I was able to pass the competitive exam and nominated to be a teacher of Higher Education in Cambodia.
If you want to study at a recognized, beautiful, and good quality university, register at National University of Battambang.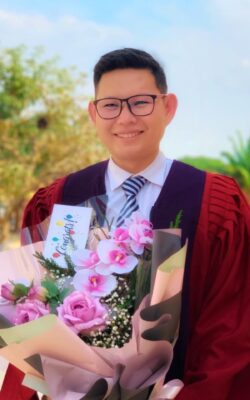 HAK Chamroeun
National University of Battambang (NUBB) is Cambodia's largest public university in the northwest of the country. It hosts more than thousands of scholarship and full-fee paying students across a diverse range of undergraduate and postgraduate programs. It offers wide range of foremost professional degrees in both science and social science.  Through the experience of learning in this university, I am absolutely grateful to this higher education institute that I was able to graduate with honor from my both undergraduate and postgraduate programs. Under the supervision ​and educating of the management board, experienced and qualified lecturers, as well as my personal advisors, I have gained a number of practical skills and knowledge which I am able to apply them in my professions. Curriculum were designed due to today world trend in which technological and modern pedagogy are engaged. Thus I had a chance to acquire the subjects through the balance of theories and practices.
I personally recommend National University of Battambang for your choice of pursuing your higher degree.
MAN Fazy
Currently, I am a senior staff member in the International Relations Office of the National University of Battambang (NUBB), where I earned my bachelor degree in Information of Technology. I have been employed at NUBB since 2011 when I was in a second year student. I received a Grand Award from The ASEAN undergraduate Conference in Computing (AUC2) in 2015, hosted in Thailand. I have also participated in several research projects and staff exchange programs with a Partner University in Indonesia as well as both national and international conferences both in Cambodia and overseas. In 2017, I received a ten month scholarships under the ERASMUS program, funded by the EU to pursue my Master degree in Management at Masaryk​ University, Czech Republic. In June 2019, I attended a two weeks Advanced Training Course (ATC) on the development e-learning materials at Ghent University, Belgium. Beside this, I had plenty of experience in communication, events organizing and information dissemination.
What I have today is because of the National University of Battambang.
EACH Nangsamith
I am Currently working as program coordinator at the Graduate School of the National University of Battambang where I earned my undergraduate's Degree majoring in English. Studying at NUBB, I had plenty of opportunities in participating in both local and international academic events. Because of NUBB's quality curriculum and qualified lecturers, I had the capacity to compete worldwide for an international credit mobility to study in the University of L'Aquila, Italy for an academic year under the support of Gate Erasmus Project in 2014. At NUBB, both theories and practicalities are applied in every class ranging from science to social science. NUBB is equipped with variety of study facilities such as modern library, comfortable classrooms, computer labs, etc which makes students feel like home when they are studying there. My study journey was not end at undergraduate level, I registered to the graduate program at the Graduate School of NUBB. It is not a coincident, but a result from quality education I gain from Graduate School of NUBB, I was awarded a 2-year scholarship at the Suranaree University of Technology, Thailand.
"With NUBB's quality education and social responsibilities, I personally recommend NUBB for your undergraduate and graduate studies".
[ak_image_slider id="807″]